So Joshua fought the Amalekites as Moses had ordered, and Moses, Aaron and Hur went to the top of the hill. As long as Moses held up his hands, the Israelites were winning, but whenever he lowered his hands, the Amalekites were winning. When Moses' hands grew tired, they took a stone and put it under him and he sat on it. Aaron and Hur held his hands up—one on one side, one on the other—so that his hands remained steady till sunset. So Joshua overcame the Amalekite army with the sword. -Exodus 17:10-13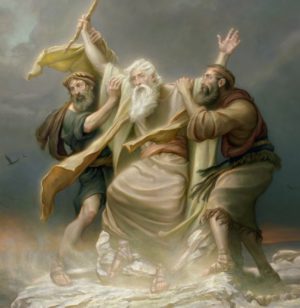 This is my favorite story in the entire Bible. It's such an accurate depiction of how we all need community and help and friends that come running when we call.
On Friday, September 21, 2018, Chip​ and I found out that we lost our baby. There aren't words to describe the heartache, so I won't try. There's no "at least you have…" statement that is going to fix it. The fact is, we lost a child. It isn't the way it's supposed to be.
In the midst of our great sorrow, I can still identify the goodness of the Lord. The timing of my doctors appointments. Switching to an OB that I'm honored is not only my doctor but my friend. Friends that I text and say "no heartbeat. Take off work." and they come running. Friends with new babies that send cookies and pizza. Friends that know that comparing their pain to ours is not helpful. Friends that come and just sit, and let me cry. Friends and family that pick up my kids from school, watch Charlie, and just let me escape. Friends that I can text with infinite four and five letter words who respond with, "you're right. Satan is SUCH A BITCH." Sweet friends with babies in their bellies than I can 100% geniunely say that all I feel for them is joy and hope that they won't shy away from letting me experience their joy during this time. Friends willing to walk me through the specific details of what's to come with my DNC. A trip to Chicago perfectly timed for next week where I can heal and escape and laugh and eat and drink with my husband and best friend. For years and years I've prayed for community, and you know what? Ours is the best. And that is an answered prayer.
Annie asked why God would take our baby, as she wailed when we told her the news. I explained that God did not, in fact, take our baby. He healed it. God is the author and creator of every good and perfect gift from above. Satan is the root of all evil. I know that God is weeping with me in my tears. He's just as sad and angry and heartbroken as we are. And you know what Annie said, instantly? "You're right, mommy." Oh to have faith like a child. My prayer is that one day I can honestly say and feel those truths I told to my 6 year old deep down in my heart and soul about this. But I'm so thankful to have Aarons in our corner holding our hands up for us as we fight to heal and recover in the meantime.